The fatbike is an unbeatable tool for riding off the beaten track, going on bike-packing adventures and, above all… riding on snow. North American cyclists, especially those in Quebec, are blessed with abundant snowfall and thousands of kilometers of well-groomed trails. That's why this new winter sport is still recruiting many new enthusiasts every year.
Once you've tried it (on the right bike and in the right conditions), you'll want to come back for more! So much so, that the decision to buy your own bike is quickly made. But you need to make an well-considered choice, because there are as many models on the market as there are buyer profiles. Here are a few guidelines to help you better define your needs, starting with a few principles that fat-tired cyclists learn sooner or later.
Things to consider when buying a fatbike :
1) The price
Beware of bargain-priced fatbikes available on the Web or in big-box stores. These machines often turn out to be very heavy, fitted with the wrong tires, cheap components and inadequate transmissions and brakes. Impulsive buyers who let themselves be seduced will tell you: cheap bikes are unreliable and ill-suited to riding on snow. The fun just isn't there.
2) The tires
When examining and comparing different models, tires are the most important feature to consider. Snow structure varies greatly from place to place and from day to day, and to enjoy your outings, it's essential to ride with studded tires that offer good traction. To offer their bikes at a better price, some manufacturers equip them with less expensive tires that are not as well suited to winter riding. Over the years, enthusiasts have been able to test the various tires on offer, and a consensus is emerging on certain models. In the 26″ format, Maxxis' Minion and Terrene's Johnny Five have proven to be reliable values, while in the 27.5″ format, Terrene's Cake Eater is a unanimous choice. Spherik has chosen to equip its models with these well-known products, to maximize your enjoyment and avoid you having to spend hundreds of dollars on a new pair of tires later on.
3) Metal spikes
In addition to fitting snow tires, the most common upgrade made by experienced fatbikers is the installation of "studs", metal spikes that help you stay in control when encountering an icy section of trail, a phenomenon that occurs in busy centers or after a thaw. No new fatbikes are available with these metal spikes. So you have to buy new studded tires, which are quite expensive. A cheaper option is to buy loose studs, which you insert yourself by hand into the stud cavities of certain tire models. So, if you're thinking of buying metal studs in the future, make sure your new fatbike is fitted with stud-ready tires, such as Terrene's Cake Eater, which are supplied with most Spherik fatbike models. Let's take a look at some of the profiles of winter bike buyers, so you'll know which category to identify with and which bike is right for you.
Fatbikes for children and small people
These cyclists often have trouble finding the right bike for them, because many manufacturers neglect this segment of their clientele, simply because it doesn't generate high enough sales volumes.
When you're less than 5'2″ tall, you need to pay close attention to the geometry and measurements of the smallest sizes on offer. On a bike that's too big, you'll be poorly positioned, uncomfortable and uneasy when you set off or restart. So make sure the standover height of the bike corresponds to the height of your legs. 
Spherik has developed the SF2 designed specifically for children and short people, ranging from 4'8″ to 5′1″. Adults can also get its electric counterpart, the SEF2. Featuring 26″ wheels, the geometry of these bikes is designed to keep crotch height as low as possible, ensuring centered positioning and safe, confident starts and stops.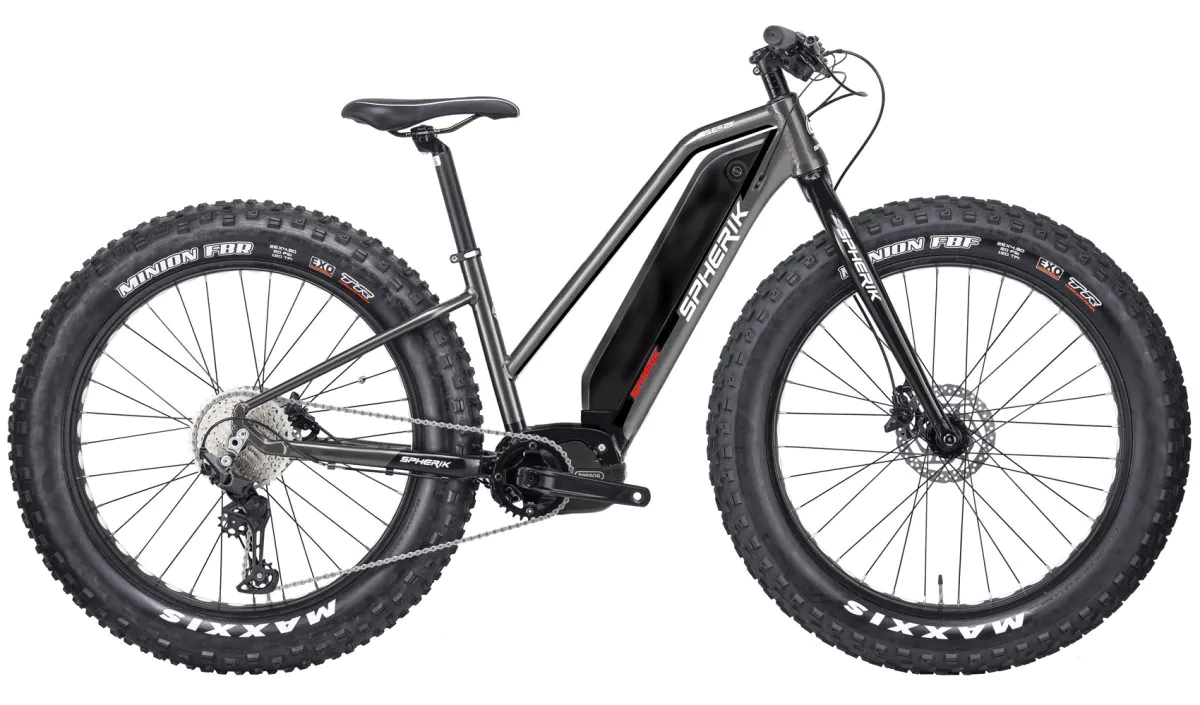 Beginners with a tight budget
They've discovered fatbikes, but are also fans of other winter sports, and their leisure budget is limited. They're not sure they'll use their new fatbike very intensively and very sporty, so they want to invest just enough to get a bike that's both reliable and safe.
In this niche, the Spherik SF3 compares favorably with the competition. It features essential basic components: 27.5″ wheels, hydraulic disc brakes, 10-speed derailleur, all mounted on the same hydroformed aluminum frame as the top models in the Spherik range.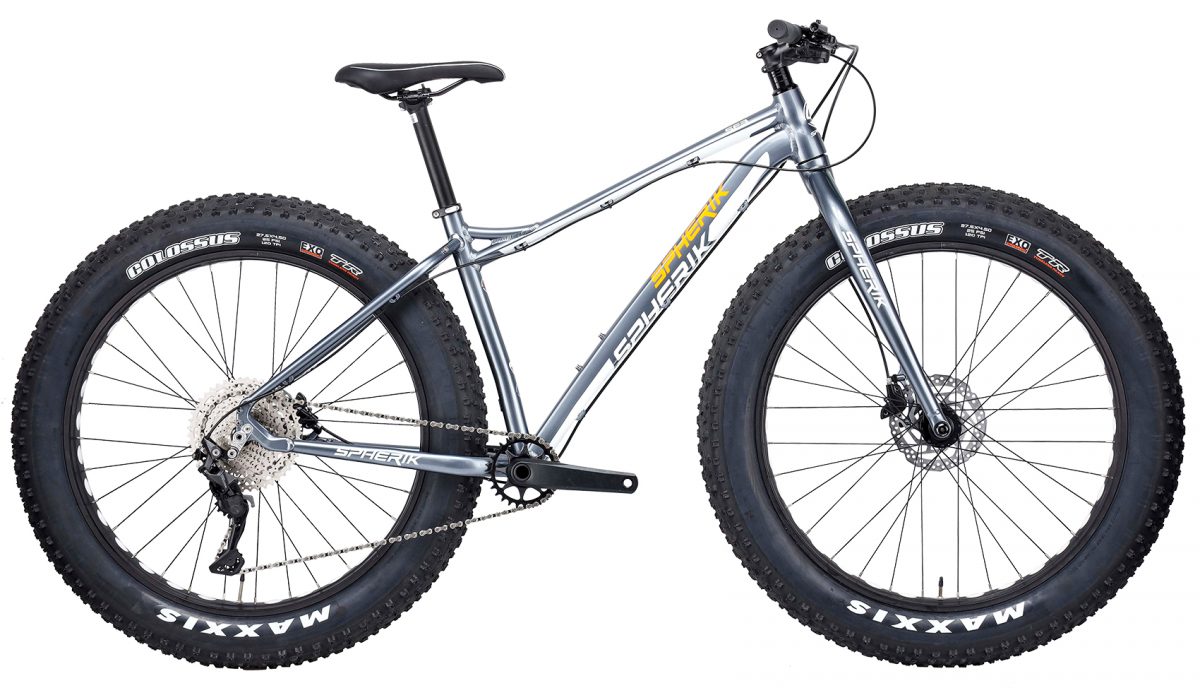 Savvy buyers looking for the best value
Whether they're buying a fatbike for the first time, or looking to replace their current ride, discerning fatbikers are looking for a bike at the best possible price, but without compromising on components. They need 27.5″ wheels, a telescopic seatpost, an 11-speed drivetrain, tires they won't have to change and that they can nail whenever they want. The Spherik SF4 is tailor-made for this clientele, and its price defies all competition.
Connoisseurs who like to equip themselves wisely
These are often seasoned riders. They're not new to winter biking, and they know what they're looking for: a well-equipped, lighter-than-average bike that won't cost a fortune. In addition to 27.5″ wheels and a telescopic seatpost, they are looking for a carbon fork, lightweight brand-name components and a 12-speed drivetrain. That's exactly what the SF6 offers, at the top of the Spherik aluminum bike range.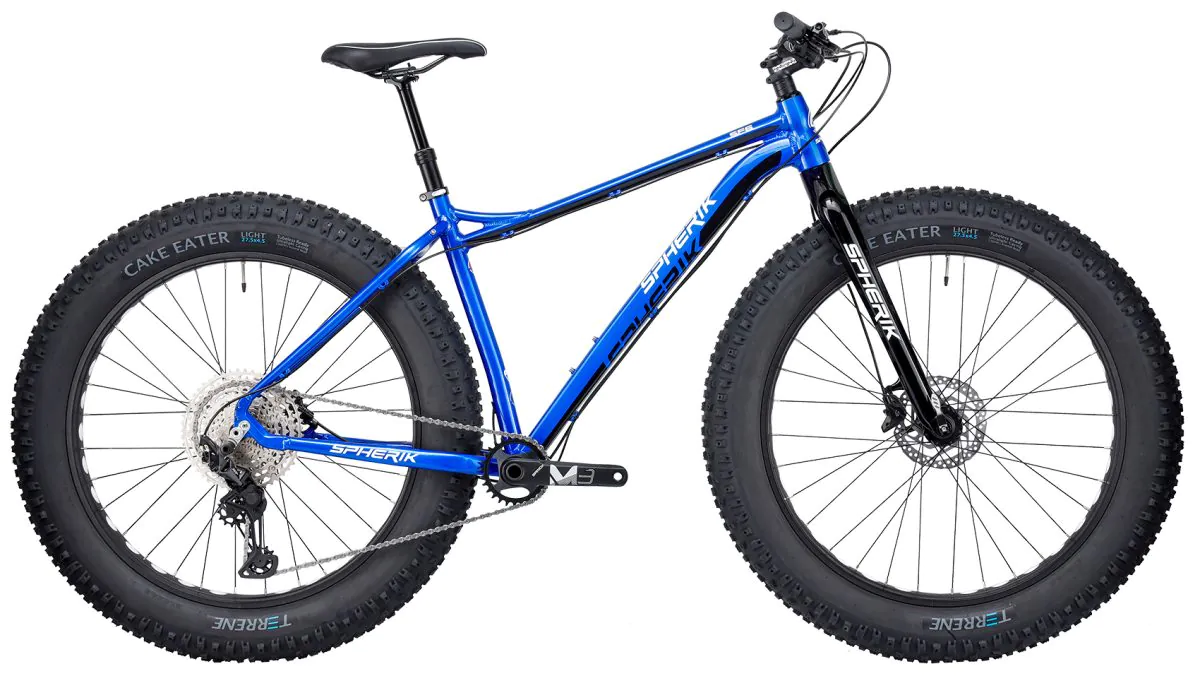 Athletes in search of performance
Some use Strava to compare themselves with the best. Others are more discreet, but just as eager to perform. All enjoy going as fast as possible, climbing with ease, enjoying the lightness and maneuverability of a carbon frame – in short, the same sensations as on a mountain bike in summer. To get the bike of their dreams, they're willing to pay whatever it takes. Nothing is left to chance in their purchasing process. They carefully analyze component weight, frame geometry, bottom bracket width and rigidity.
The flagship of the Spherik range, the SFC occupies a prime position in the niche of high-end carbon fatbikes. No wonder it's the choice of a powerhouse like Alex Harvey, who knows a thing or two about winter performance. With a range of assembly options, the sportsman can find exactly the bike he needs, at a price that compares favorably with competing brands.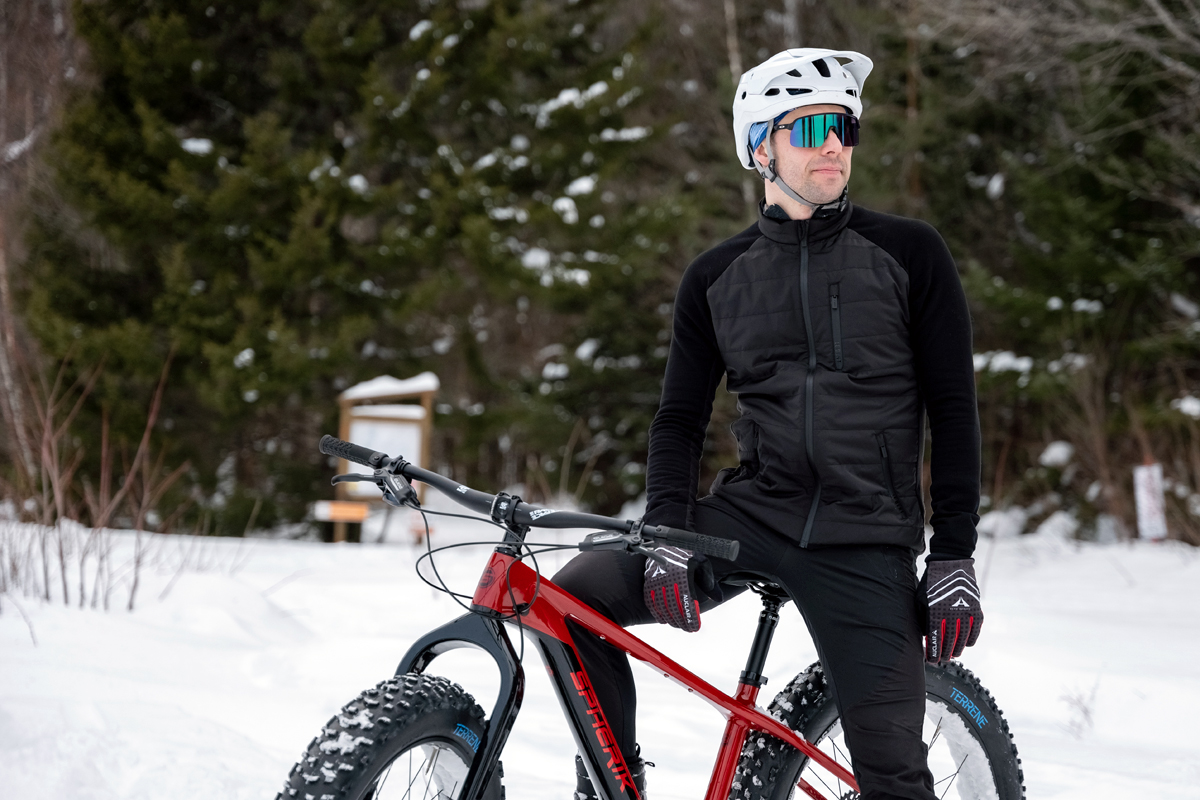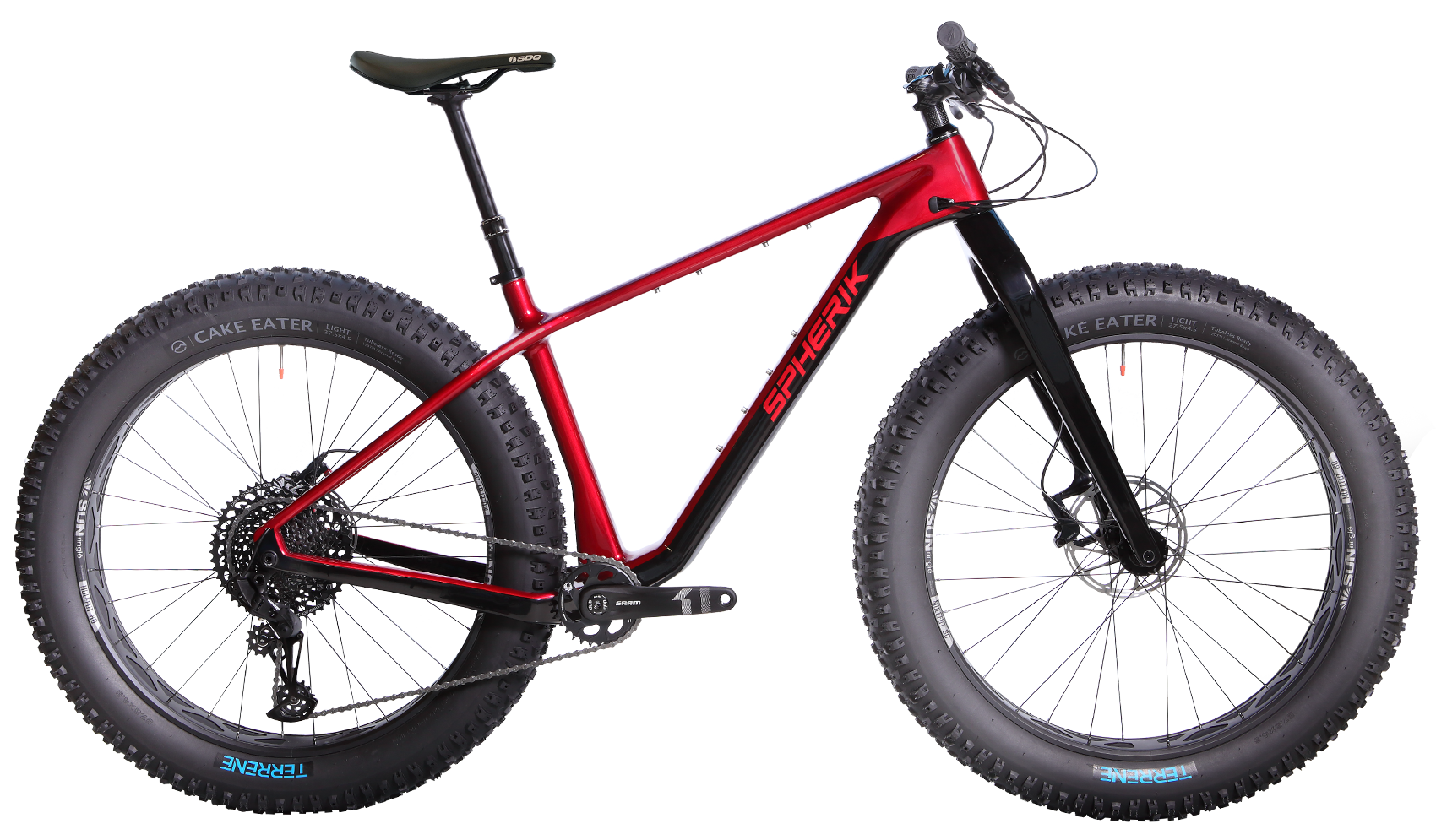 There's every reason to get an electric bike. To keep pace with a faster partner, because age or illness limits your capacity for effort, or simply for the pleasure of going faster, further, without breaking a sweat!
In the electric segment, some buyers limit themselves to the minimum in terms of assistance power and components, the idea being to have fun on the trails without paying too much. The Spherik SEF4 will suit them perfectly, with its 80 Nm torque Bafang motor and 500Wh battery.
Other consumers are more demanding, looking for the best tires, a telescopic seatpost, a 12-speed transmission and, above all, more powerful assistance. Their aim is to chain together a maximum number of climbs and descents in each outing. The Spherik SEF6 offers 95Nm of torque and a 696 Wh battery, enough to guarantee thrills for the well-connected riders!